Each year our research team plants, monitors, and harvests a group of silage plots across the Legend Seeds territory. In 2016, we had 15 plots in seven states. For the 2017 growing season, we had 19 plots in five states. The data is sorted by relative maturity group and shown in terms of milk/acre. Milk per acre is calculated by multiplying the dry matter yield per acre with milk per ton, to give an accurate picture of both yield and quality. The results shown below are averages of all the locations with both Legend Seeds and other brands. Within the Legend Seeds lineup, there are both dual-purpose products and silage specific products. These data sets continue to make a case for attempting to dedicate your silage acres in advance, rather than going to whichever field is ready first!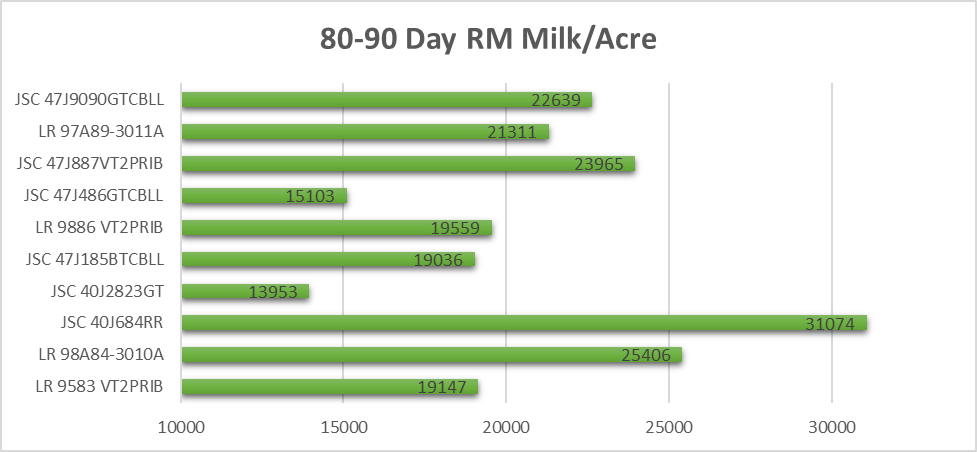 In this relative maturity group, I wasn't surprised by the performance of these hybrids. The research this year demonstrated what we already knew about our products. For example, JSC 47J486 GTCBLL and JSC 40J2823 GT ... we know they are both "average" for corn silage. This data proves that there are better products adapted for corn silage than those two products. If you're cutting for corn silage and dedicating those acres in advance, we would recommend others such as LR 97A89-3011A or JSC 47J909 GTCBLL. We would rather see those placed as companions with JSC 47J9090 GTCBLL. It's important to consider the historical data on the products, too. Here we're just showing one season's performance.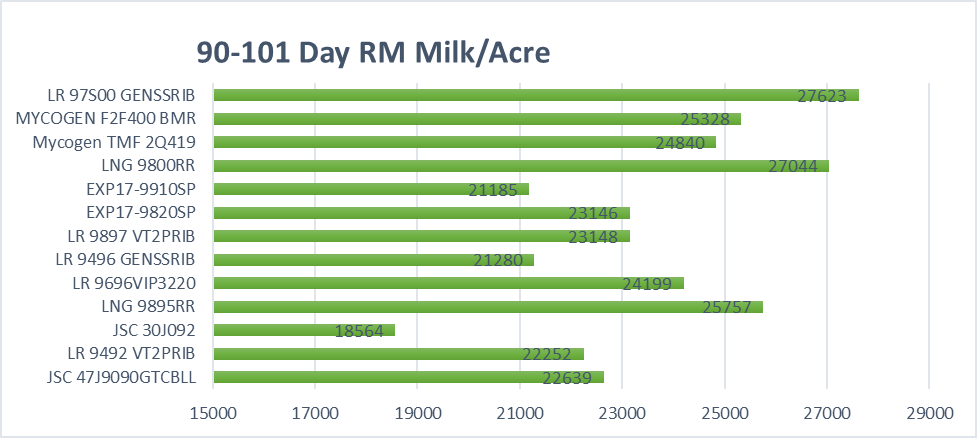 This shows a pretty good separation in quality between our dual-purpose and silage specific products. For example, LNG 97S00 and LNG 9800RR, LNG 9895RR are all near the top of the plot averages. LR 9897 and LR 9496 are dual-purpose products which you can see in the milk/acre averages. They don't have the yield and quality of the silage specific products.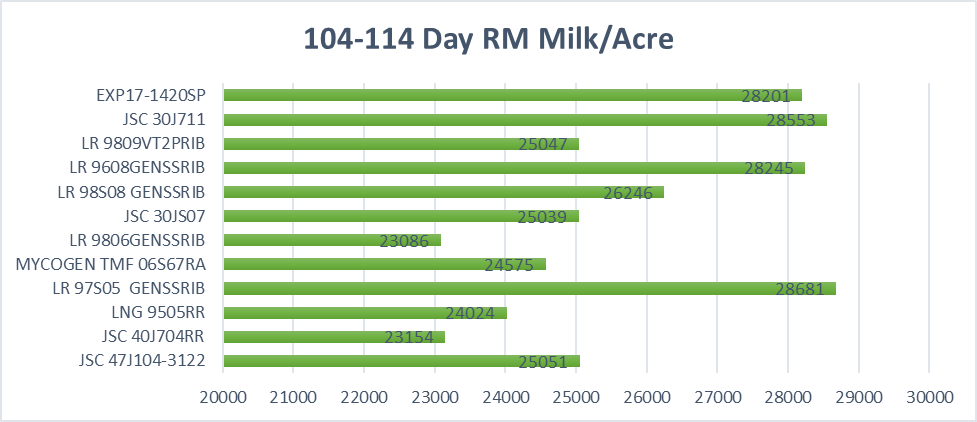 In the above graph, the outlier is our dual-purpose JSC 30J711. It's dual-purpose and is scoring right up with the silage specific products. However, as a whole, the silage specific products continue to out-perform the dual-purpose products. The LNG 97S05 is silage specific and it's right up there. Yes, there are specific cases where a dual-purpose product may beat the silage specific numbers, but overall as a product class, this year's silage data continues to point to the value of utilizing silage specific hybrids for your silage acres to maximize tons and quality. For more year over year silage data or help placing a silage product on your acres, please reach out to a Legend Seeds Account Manager or Legend Sales Agronomist. Click here to find a rep near you.