Are you tired of seedsmen that offer you a bag of corn in the fall and don't return until the following fall? At Legend Seeds, we have a different approach to treating acres and maximizing yields for your operation. Powered by Legend Seeds, the Farmacology approach brings value to your seed investment through four key components: agronomic confidence, locally proven products, data insights, and our dealer advantage. How do we recommend locally proven products for your farm? Three ways – On-Farm Trials, Knowledge Plots, and our Replicated Corn Research Program.
On-Farm Trials: Like most seed companies, we've been conducting on-farm trials since day one. It's the foundation of getting-to-know how a product performs in local conditions.
Here's just a few of the South Dakota highlights from our On-Farm Trials this year:
Knowledge Plots: Since 2012, we have taken our on-farm trials to the next level with our Knowledge Plots. We also offer public, hands-on, educational tours at multiple events each summer and fall. These events are a great opportunity to learn about new practices, technologies and products that will help improve your ROI. This year at the Lake Preston Knowledge Plot, we conducted an agronomic test to look at planting depth.
Planting depth on corn showed up well. The deep planting at 4" took 10 days longer to fully emerge compared to our normal 2" planting. Consequently, we had a reduced stand there which resulted in a yield loss of 6.5 bushels/acre at harvest. Our shallow planting got caught in very dry soil at the surface and failed to establish a complete stand.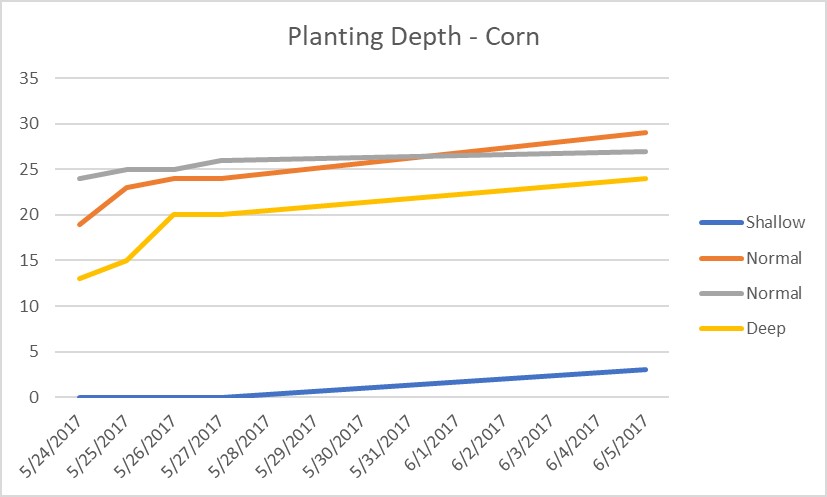 Replicated Corn Research Program: Finally, through our Replicated Corn Research Program (LEAP) we have conducted over 70,000 replicated corn trials since 2014. Our Pierre location experienced an extreme drought this year, which was a fantastic learning opportunity to see which hybrids can survive in that environment and which ones cannot. Going forward, the very best hybrids that we tested in these 12 locations this year will be pulled into our product lineup. This program allows us to have in-depth research-based knowledge on our products before they are launched into our lineup, giving our team confidence in how products will perform by region.
The Four Key Components: We have a clear mission; to deliver high-yielding, consistent-producing, top-quality seed products that will provide our customers with more profit potential than they can get anywhere else. Our Farmacology approach provides our customers with the tools and resources they need to be successful, adding value to your seed investment. When you choose to partner with Legend Seeds, you're getting more than just a bag of seed. We will provide you with confidence from planting to harvest … and every moment in between.