We know that your livestock benefit from the highest possible forage quality to meet your production expectations. That is why Legend Seeds is proud to offer a diverse portfolio of products and services that are important to livestock producers who value quality feedstuffs. As an independent, regional seed leader, we are focused on supporting producers in their quest to maximize return on investment from every forage crop they plant. Legend Seeds offers a robust portfolio of products with top-notch agronomics that focus on forage quality and consistency to achieve your specific production and profit goals.
Our extensive silage, alfalfa, and grain lineup includes cutting-edge technologies paired with the most advanced industry leading genetics available in the marketplace today. We also offer conventional and certified non-GMO options to meet every need and program. That is the Legend advantage at work for you.
Simply put, our livestock focused portfolio provides you with more options, trait packages and genetics to ensure maximum feed quality and profitability for your operation.
WHAT WE OFFER:
• Access to world-class genetics and technologies to ensure great profit potential
• Locally proven products and extensive product research
• Variety and flexibility in our product portfolio
• Agronomic expertise focused on the value of great nutrition
PRODUCT & SERVICES:
• Visit our Silage page to learn more about our:
o Floury Leafy Silage Hybrids
o Leafy Silage Hybrids
o Traited, conventional, and certified non-GMO hybrids
• Visit our Corn page to learn more about our dual-purpose hybrids
• Alfalfa
• Sorghum
• Specialty products, including specialty grasses, cover crops, and much more
• Silo Maxx and Silo Maxx WS 50T (water soluble version) inoculants for silage,
haylage, and high moisture corn, provided by Peak Forage Solutions. Silo Maxx
includes a proprietary combination of beneficial bacteria, enzymes, antioxidants
and potassium sorbate.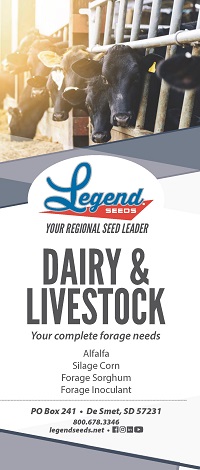 Want to learn more?
Fill out the form below to get a link to download this Dairy & Livestock Flyer