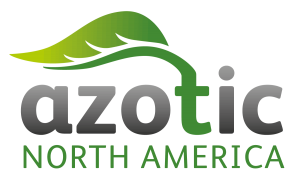 Azotic North America's management and scientific teams work to revolutionize world food production methods by focusing their efforts on developing and commercializing the use of sustainable nitrogen in agricultural applications.
After nearly 20 years of research, Azotic Technologies leading researcher, Professor Edward Cocking FRS, pioneered the development of a nitrogen-fixing bacteria, allowing farmers to enjoy reduced production costs while protecting their local environments. With this n-fixing technology, their advances in agricultural science have been globally recognized for their part in sustainable farming practices.
Learn more at www.azotic-na.com

A Leader in Plant Nutrient Technology
AgriGuardian scientists, chemists, and formulators are dedicated to helping growers around the world achieve maximum return on their investment while sustaining agricultural soils. With decades of field and research experience in plant nutrition, AgriGuardian develops products to meet the nutritional needs of all crops. AgriGuardian products are designed with balanced nutrients to be readily available, quickly absorbed, and immediately usable by the plant. AgriGuardian products provide a beneficial way to increase nutrition, yield, and profit for all crops.
Learn more at: www.agriguardian.com/

As part of their on-going research and development, they are testing additional microbial strains and application timings and methods to determine their efficacy across multiple plant species. These trials will help to define optimal application timing and compatibility in diverse climates and soil conditions in North America.
They are working to evaluate microbial strains that can affect both plant morphology and yield increases. In addition, a large scale isolation and screening of protocols trial, involving thousands of naturally derived samples, is underway.
Learn more at: www.agrovive.com