Use these ratings to guide you on selecting the right products for your area and assist you in your decision making process.
*Goss's Wilt scores may have minor changes from one year to another.
RATING SYSTEM

The products or genetic family have been given a score from 10-1;
10 = Superior, 5 = Average, 1 = Poor
Flowering: 10 = Very Early, 1 = Very Late
Ear Height: MH = Moderately High, M = Moderate, ML = Moderately Low
Ear Type: FF = Flex, S = Semi-determinant/Semi-flex, D = Determinant

Plant Height: MS = Medium-Short, M = Medium, MT = Medium-Tall, T = Tall

HR = Highly Recommended, R = Recommended, C = Caution, NA = Not Available
Maturity Zone: The map shows recommended placement from north to south movement on 1 to 7 rating.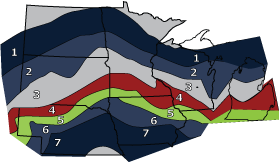 Scores and characteristics may change according to environment, growing conditions, and region.