Steps to Successful Alfalfa Seeding:
Site Selection:
► Alfalfa does best on well-drained deep soils.
► Avoid hilltops, shallow and highly eroded soils, and fields with low spots where water is known to pool.
► Following alfalfa in the rotation with newly seeded alfalfa is not advisable due to autotoxicity.
Seedbed Preparation:
► Provide a proper seedbed with firm ground and small clods. Preferably roll the ground before and/or after planting.
► Good seed–to–soil contact is essential for uniformemergence.
Seeding Rate:
12-20 lbs. pure live seed (PLS) per acre
Seeding Depth:
Heavy soils – ¼ to ½" • Sandy soils – ½ to ¾"
Soil Fertility and pH:
► A soil test should be done prior to field preparation to determine the fertility needs.
► Fertility management ensures good stands and vigorous growth.
Soil pH is extremely important in establishing alfalfa and in high production acres.
Maintain soil pH between 6.7 and 6.9 since soil nutrients are most available within this range.
Phosphorus is critical to healthy root development and stand establishment.
Potassium is needed for good plant growth, high yields and winter hardiness.
Remember to monitor micronutrients like sulfur, boron and calcium as well.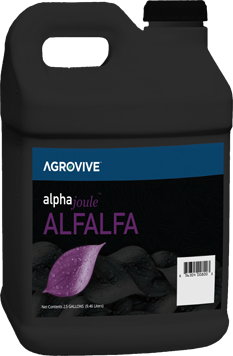 Application Type: Foliar | One case covers 20 acres
Unlock your alfalfa plant's ability to produce its own growth regulators and metabolites!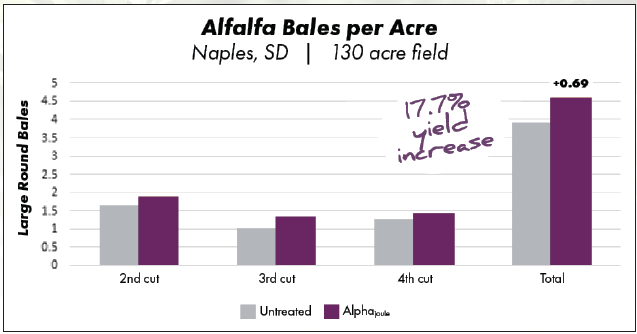 Key Benefits:
Larger leaves and more branching
Better leaf retention
Promotes root regrowth after cutting
Increased tons per acre
General stress mitigation
Can be applied to all alfalfa varieties and technologies at spring green-up and following each harvest during the growing season
To learn more download the Alphajoule Sell Sheet or visit our Biologicals page.